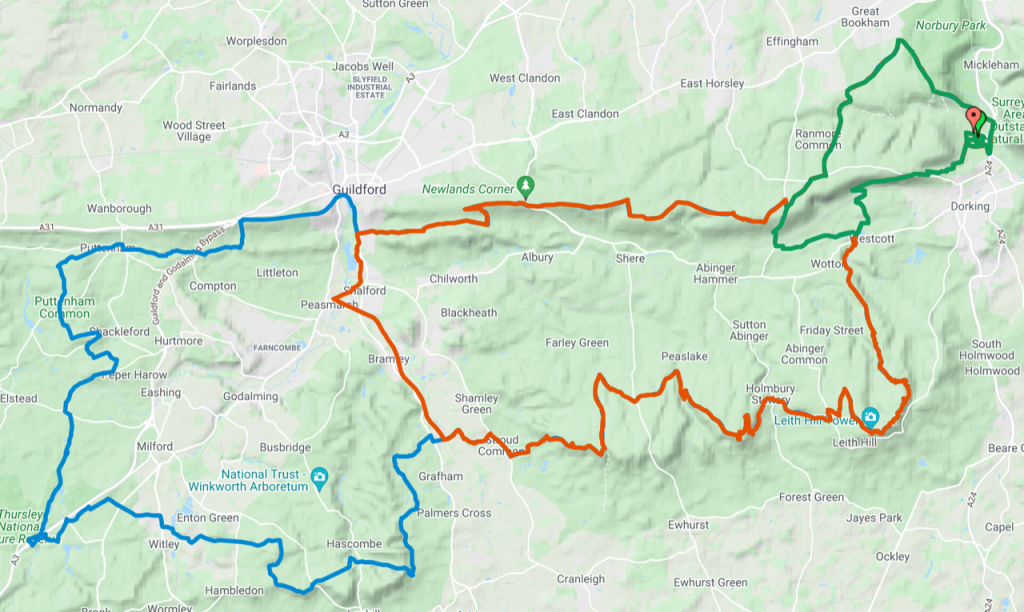 Please be aware that this event is happening all day on Saturday, 6.30am - 7.30pm and ensure pedestrians, dog walkers and horse riders are aware of the routes being used. The press release refers to cycle riders when it uses the term riders.
We have just been advised of this taking place this Saturday, organised by Just Pedal Cycling Events. They have provided us with the map (attached) and informed us as follows:
"The route has 3 different lengths and they are mapped as per below (running anti-clockwise).
The short GREEN route is the one that is going to have the most riders on in with the Long and Medium distance rides departing Denbies from 06:30 to 09:00 and the short route riders departing between 10:30 and 12:30. The Long and Medium start windows will have 20 - 30 riders leaving together but the shorter route starts will be more relaxed and therefore spread out as they do not have as far to go.
We will not be allowing riders to join the red or blue sections of the route after 10:00 as they simply would not have enough time to get around.
The early part of the day from 06:30 to 10:00 is when riders will be at their highest concentration however given the nature of the trails and the amount of climbing etc I would expect them to be spread out very quickly.
The short loop (marked in Green) is going to see the most riders in total and will be in use throughout the day as that is used for all 3 routes.
All riders have been sent information about how to behave if they meet other land users (horses/walkers/ etc) as well as being directed to the 'Be nice say hi' campaign and this will be re-iterated in the start line briefings.
Outside of those first couple of hours (and with the possible exception of the shorter route) we would not be expecting to see more than a handful of riders together at anyone time - mostly in 1's and 2's."
Please do share and make as many riders aware as possible.