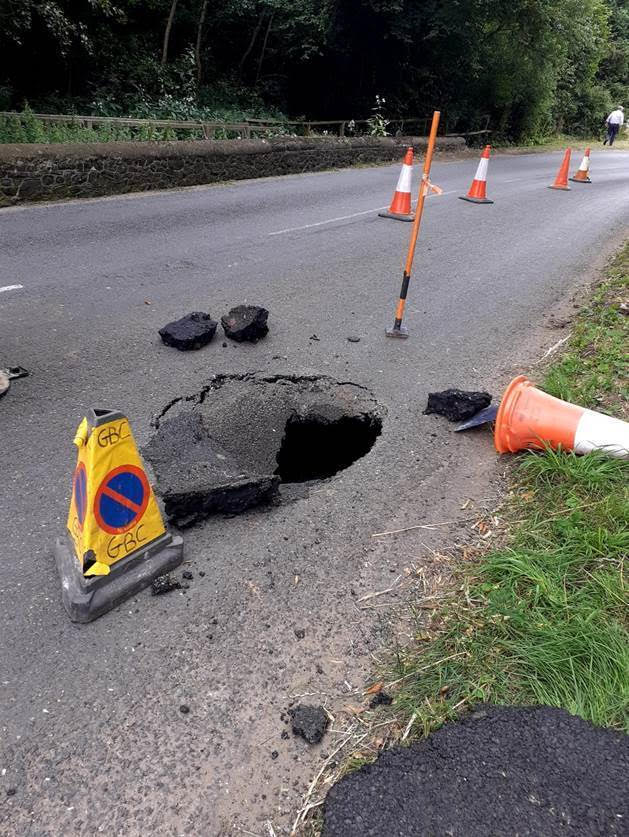 The Sherbourne stretch of the A248 (between New Road Albury and the Catholic Apostolic Church) has had to be closed following the appearance of a large void in the road surface adjacent to the bridge over the Tillingbourne. The road is expected to be closed until 30th September 2020.
Despite the apparently small size of the hole, there is a much larger "cavern sized" void underneath. There was judged to be a serious risk that, if vehicles continued to use this stretch of the road, the hole would be enlarged and vehicles might actually fall into it. Highways Officers therefore decided to close this stretch of the road.
The official signposted diversion route has to be suitable for vehicles of all kinds and therefore takes all traffic through the centre of Guildford. Inevitably, some drivers with local knowledge will try to use the minor side roads in the area instead. It is obviously especially important to try to discourage HGVs and other large vehicles from using roads that are clearly unsuitable.
The 32 bus will be diverted. It cannot serve Shalford, Chilworth and Albury as usual, as it will run direct between Guildford and Silent Pool via Merrow and Clandon Crossroads.
SCC have arranged for an hourly shuttle service to run over the affected part of the route between Guildford and Albury (New Road Corner), funded by SCC. The timetable is attached for information.Albury Shuttlebus Times Leaflet 2020