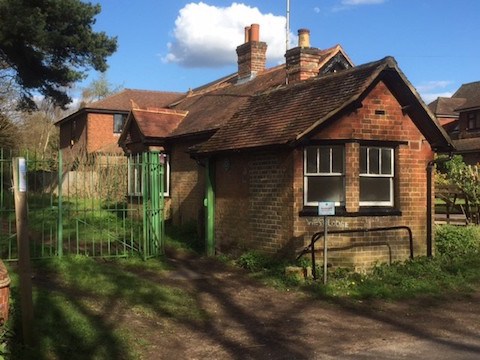 West Lodge, Blacksmith Lane, Chilworth - following a meeting of the Executive of Guildford Borough Council on Tuesday 20 February 2018
Guildford Borough Council (GBC) Executive on the 20th February, despite Councillors hearing strong appeals from both Guildford Heritage Forum and a member of St Martha Parish Council, agreed to take the next steps towards selling West Lodge, the Grade 11 listed gatehouse to the historic Gunpowder Mills Site in Chilworth.
GBC was not persuaded that selling an important heritage asset, immediately adjacent to the Schedules National Monument site of Chilworth Gunpowder Mills, was a significant heritage loss to the Borough. It was argued that as custodians of the future of the Borough the Council should do whatever it can to retain such buildings. Alas this persuasive argument fell on deaf ears. The Borough will now be advertising its intention in the local press to appropriate the property for planning purposes and seeking consent from the Secretary of State to dispose of it. The disposal of West Lodge would amount to divorcing it from the Gunpowder Mills Site to which it belongs.
The pre-planning advice St Martha Parish Council received on West Lodge led the Parish Council to believe that there would be severe planning and parking restrictions and therefore the Parish Council will be monitoring carefully any possible future planning applications for West Lodge and will also be looking to see that there is no over-development of the area. It is a very sad day for heritage in the Borough and one wonders now what other heritage assets will be under similar threat in the future. Heritage doesn't seem to be viewed as particularly important where Guildford Borough Council is concerned.
Click here to read a further reference to this matter may be viewed on the Chilworth2gether Website – www.chilworth2gether.org.uk under the tab: 'Chilworth Gunpowder Mills Heritage Site'.